Daze of Our Lives . . . on 3-by-5's!
by CEO (Cynthia Ewer, Organized)
Editor, Organized Home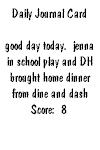 Although it's difficult to see it from behind the clutter of pizza boxes, mounds of laundry and piles of newspapers, getting organized is more than just housework. While Pam and Peggy got household organization off to a good start in "Sidetracked Home Executives", the sweet rewards of personal organization come with the personal growth concepts of The Happiness File
One of the best of these is the Daily Journal Card. No bound diaries with a little key for us! (Besides, my little sister could spring that thing with a bobby pin, every time!) Pam and Peggy suggest that S.H.E.™s keep a journal on, what else--a 3X5 card.
Do I hear a chorus of wails, out there? Like most of us, my previous attempts at journal-keeping ended in abject failure. With grandiose plans (and with an eye toward my eventual biographers) I entrusted florid prose to the first few pages of a long line of books--then, years later, embarrassed at my youthful literary excesses, I'd cringe whenever I saw them.
For a Sidetracker, though, a 3X5 Journal Card is just the thing. Here are the nuts and bolts of Pam and Peggy's idea:
First, fill out your Journal Card the morning after. During early-morning quiet time, you have a better perspective of the trials and triumphs of the day before. If you're following directions and getting up before the main body of the family, you'll have those uninterrupted two or three minutes you need to fill out your card.
Turn the 3X5 on its side, date the top, and just outline your day. Hit the high points: did you feel happy? Proud? Peaceful? Loving? Put it down! Don't censor the low points, but with your early-morning perspective, you'll be able to present a balanced view. If you can't finish the front of the card--no problem! Have a long, exciting day to record? Let your writing spill over onto the back!
Pam and Peggy don't stop there! Keeping a journal isn't something to do just because "it's something nice to do!" Use your journal as a very powerful organizing tool.
In this vein, P&P recommend that you give each day a 1-to-10 Happiness Rating. As they put it:
"A score of one we compare with being strapped to the flying blades of a Cuisinart for twenty-four hours. A five-point day is comparable to being the drapes at a Ramada Inn, and a ten is like having Johny Olsen tell you to 'come on down' for 'The Price Is Right.'" Happiness File, p. 51.
Over time, Routine Cards will help you develop an idea of where your day-to-day happiness lies--and you'll have a better idea of what areas of your life are out of whack.
A Journal is a potent organizing tool, not just a gimmick to keep the house picked up. A Journal is a lamp to illumine the pathway of your life. In a Journal, you've kept a tangible record of where you were, what you were and who you were as you move through the stages of life. After a few months, you have some data for comparison. You can look back and see, "Yes, I do feel more down and gloomy when the weather's bad!"
In that knowledge is power. Power to understand, to change, and to grow. Power to become even more the woman you were born to be.
Tomorrow morning! Let it be the first day of the first Journal you've ever kept. Turn that white card on its side, get ready, and . . . get organized!
Top