Hearing Voices, or, The Ordell Within
by CEO (Cynthia Ewer, Organized)
Editor, Organized Home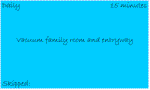 Have you listened to your inner voices lately?
No, the CEO has not gone off her rocker--although those of you who know my preference for the flinty comfort of Marcus Aurelius over the sappy, shapeless maunderings of pop psychology may well wonder! Despite my firm prejudice that the genre of "little instruction books" is fitting punishment for those with "little" lives, and that the "one-minute" mother leads only to a generation of "one-minute" children, I concede that, occasionally, popular thought does give rise to a useful idea or two.
One such concept: inner voices. What (and whose!) voice dominates your internal dialog on the issue of order?
The inquiry began as I read the many notes on the subject of the basic week plan. The BWP is the central engine of Pam and Peggy's S.H.E.™ system. I suspect that organized people live by their own version of a basic week plan. Why, I wondered, did we sidetrackers have such a difficult time with this idea? Why do we resist the idea of assigning a central focus to our days? Why is our first thought, "Oh, that won't work! I'm __________ (choose one: pregnant, a working mother, married to a shift worker, too much of a free spirit, all of the above)."
I followed myself through a week on my own BWP--and I heard voices! There was the Procrastinator: "I know it's Desk Day, but I hate to pay bills, and anyway, I have a brief due and I really should work, and besides, I need to spend extra time with Brandon on his algebra today, we're doing the Cartesian coordinate system. . ."
Then, there was Miss Self-Pity: "Look at this kitchen! I thought the guys were going to clean up after dinner! Why should I have to do everyone else's chores? They treat me just like a maid! Why should I spend my time cleaning up when it's never appreciated?"
I also heard from the Sidetracker Within: "Errand Day. Gotta get those groceries. Say, the sun is shining! Why don't we go to Berkeley for a field trip to look at the bookstores?"
There was one other voice, however; call her Ordell. At the end of Desk Day (really, only Desk Hour-and-a-Half), Ordell commented, quietly, "There. That wasn't bad at all. The bills are paid and your passport has been sent off to be amended. You've written those thank you notes, drafted a piece for the alumni magazine, and everything is filed and put away. You may go! See you next week."
If I listened for Ordell, she kept me clear of the other voices: the disorganized, bad-habit, "this won't work" crowd. Resisting the urge to run off to Berkeley on my Errand Day, I realized that the field trip would only improve with a week's planning and a clear conscience. When Procrastination hissed, "Skip those pots and pans tonight! Do 'em tomorrow! Go read some more of that biography of Gertrude Stein!", Ordell would remind me that the pots would take only 10 minutes, and then I could turn my attention to Gertrude and Alice without guilt--and without having scuttled the following day before it even began!
Listen for those tiny, orderly whispers! Forces of disorganization can be strong in us sidetrackers--but Ordell lives in there, somewhere! Let her out! Listen to her!
Find your inner voice of order . . . and get organized!
Top