Beginning Baby Steps, or
Up and At Em!
by CEO (Cynthia Ewer, Organized)
Editor, Organized Home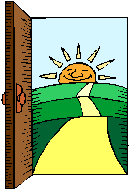 We begin with Pam and Peggy's first rule: get up 30 minutes earlier than the rest of the family, shower and dress.
Amazing how hard this simple assignment can be. Oh, the excuses and barriers to showering and dressing! Listen to my usual mental dialog, any given weekday morning:
"Oh, I'll shower after I read the paper--I need my coffee!

Wait, Dr. DH is in there. Fine, I'll shower after he's finished!

Oh, no! The Rocket Scientist has grabbed the hot water--better get dressed, because it'll be midmorning before there's anything hot to wash with!

Phooey. Forget that, I've gotta get the RS going on his Chem lesson.

[2 hours later] Why bother? I'm just going to exercise class at 4:30!

Sheesh. I'm too tired to go to class. Not today--I've gotta cook dinner!"
Get the picture? If you're Sidetrackable, everything in your life, from family to chores to choices, presents you with an opportunity to slide.
So what're your excuses? Starting your day right, in clean clothes with clean hair, gives you more energy for doing the stuff you don't wanna do (for me, just about everything).
[Find a printable Excuses Reminder here.]
That's it: first challenge. Write it on a 3-by-5: "I WILL GET UP, SHOWER, AND DRESS, EACH DAY!"
Tape it to the coffee pot, the back door, wherever your first excuse resides. Know it. Learn it. Live it--and Get O!
Top