Card File Jumpstart, Or,
Getting Back in The Box
by CEO (Cynthia Ewer, Organized)
Editor, An Organized Home

It's been a super time together, these last 21 days! We've attacked everything from motivation to the last nooks and crannies on the back porch. How to end it? By giving you instructions on what to do when you fall out of the box!
If you're a S.H.E.™, Sidetracked is your first name, not your middle name. All of us, the CEO no exception, veer off the system from time to time--and being a S.H.E.™ guarantees that you lose your "O" just when you need it most! How do you get back on track when dust is inch-deep on the cardfile?
To jump-start a cold cardfile, start with an uninterrupted hour early in the morning. That hour, self-indulgent as it seems, is an essential. No kiddies. No Dr. DH. Peace and quiet and a large table. Sweep the mess on the floor, if you must. Add a cup of good coffee, and begin!
Start with a clean slate. Forget how many times you've skipped cards, and look away from the condition of the sticky kitchen floor. The first task is returning your card file to pre-sidetracked status.
Take out all the cards that are filed before today's date, and rearrange the dividers so that today's month and day are at the front of the file. Now, refile all your daily and weekly housekeeping cards as if you'd done them all along. Dailies go behind today's divider, and weeklies go in your regular heavy- and moderate cleaning days. Underestimate your time, because you'll be playing catch-up this week--better to schedule that big job for a week from now, than to risk getting sidetracked by too many cards this week!
Next, look at the monthlies--and look at your house. The kool-aid covered kitchen floor (ah, it's summertime) must be dealt with, but can the linen closets go one more month without being tidied? Distribute your monthlies over the next two months. This late in the game, a little more delay won't hurt.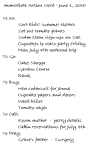 After your cards are all tucked away, make a quick Immediate Action Card. Start with an On My Mind list, and transfer your most pressing jobs to a white card. If a job can wait, write it on a 3x5 slip of paper, and file it in front of next month's divider.
[Find a printable On My Mind Worksheet here.]
Now, you're ready to play catch-up. I start at the front door. Only this once, I'll do whatever seems most important even without a card. As I work from the front door to the right, I'll tidy and dust bookcases, gather scattered laundry, wash that smudge off the wall (the one I've stared at for two weeks), de-clutter, toss old newspapers. I'll delegate the vacuuming to the LD's.
Count on spending time in the kitchen, laundry, and bathroom--there, neglect can't be postponed. By day's end, I'll have dug out from under 80% of the mess, and I'll rest secure that the remaining loose ends are programmed into the cardfile over the next few weeks!
Jumpstarting your cardfile can be calming. Just seeing that Immediate Action Card makes me feel like my ducks are in a row. Get back in that box . . . and get organized!
Top