"A" is for Activity List
by CEO (Cynthia Ewer, Organized)
Editor, Organized Home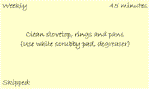 We've gotten up early, we've worked on motivation and goals, and now it's time to set up those cardfiles--and it's as easy as A, B, C.
For S.H.E.™s, that stands for Activity List, Basic Week Plan (sometimes known as BWP), and Cardfile--the mechanics of the S.H.E.™ home management system.
I hope nobody thinks I'm one step ahead at this point. I have a very bad case of boys infesting my computer (why, oh, why do I permit them to buy a game that can only be played on my computer, not theirs?). To make matters worse, our area is plagued with afternoon and evening thunderstorms, meaning the computers must all be unplugged. Then I come unplugged as these same high-tech boys must be redirected to amuse themselves in low-tech ways (and I'll say only that, as teenagers, their ways are low, indeed!)
No, I'm sitting right where everyone else is. And where I've started is with the "A" of the S.H.E.™ equation: Activity Lists. But you will be amused to learn that I filled out my Activity Lists during some unscheduled down time in a tire store.
[Find printable Activity List and On My Mind Worksheets here.]
There I sat, notepad in hand, scribbling my Activity Lists while watching Montel. As a daytime TV virgin, I'd never seen this particular show and having had the experience, I'm sure I'll never repeat it. All I could do was mutter, "Excuse me? Where are your parents?" at the four sisters who accused one another of boyfriend-poaching and worse. Oh, la, as the French girls say.
There I sat, surrounded by tire displays and the smell of smoky rubber. I visualized every room in my house. For each room, I listed every task necessary to keep it in shape, from cleaning to regular decluttering to seasonal or yearly maintenance.
At the same time, I kept an "On My Mind" list on another page--a place to put all the little nagging pesky problems that popped up from nowhere. Things like "Call for a furnace tune-up and duct cleaning!" were listed under "On My Mind", while repeating tasks like "Oil family room paneling" were assigned to the room's activity list.
The tire waiting area proved to be a perfect place to work up my Activity List. No teenaged boys yelling "Get 'im!" or husband nattering, "Sweetee, where's the . . . . .".
In the tire store, I couldn't give in to a desire to do something, anything, besides think about cleaning the house. Granted, I lacked the stimulus of being able to see each room--but I was spared the potential sidetrack hazards of my mail, my magazines, my books, our photos, my sons, the birds in the yard, the weeds in the flower bed, and the neighbor lady over the fence.
Are you along for the ride? Activity Lists! The next step to organization in 21 Essays to S.H.E.™!
Top