A Clean Slate, or Why Is This Woman Walking Around Mumbling?
by CEO (Cynthia Ewer, Organized)
Editor, Organized Home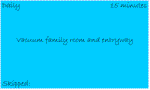 As I look around my big new home, now that 80% of the moving boxes are squashed flat and in the attic, I've realized that my cardfile, too, will have to make the move from small apartment to four-bedroom house. If you're new to S.H.E.™--or your copy of Sidetracked Home Executives is creased and stained but you still;; haven't assembled your cardfile--you may want to join me as I start from scratch in a new house.
We begin, as recommended by P&P, at the beginning: with Activity Lists. You'll find them in the back of "Sidetracked Home Executives", while "I'm OK, But You Have A Lot Of Work To Do" contains an appendix listing copies of P&P's revised "routine" cards. Iconoclast that I am, I'm going to use neither, just pages in my S.H.E.™ notebook. [Find a printable Activity List here.]
We will now make a grand progress through the house (the "walking around mumbling" part). Starting at the front door, and moving room by room throughout the house, we will list each and every task that needs to be done to keep our house clean. I know I'll have lots of new and dirty jobs ahead (one of which being "Polish Cleopatra's Barge"--the nickname given my mother-in-law's rosewood Victorian sofa aka boat, complete with seasick green velvet upholstery), but, to appropriate a Southernism, "I'll think about that tomorrow at Tara!" Just walk through the house, scribbling as you go.
After an hour or so, you'll have assembled a place to start. Put the lists away, because you want to attack the next phase with renewed energy, and because you're probably depressed at the number of things it takes to keep a house clean.
Next day (or however long you've managed to procrastinate) you'll assess your activity lists. For each task, decide on a frequency. On my lists, "Vacuum" will take on new depth and meaning, now that we no longer live in a city apartment building (where any street dirt has been walked off in the halls), but live surrounded by Georgia sand, pine needles and mud.
I'll assign a "daily" or "every other day" to my vacuuming chores. Other jobs will be weekly tasks: wind the clock (a wedding present now out of purdah), polish Cleo's Barge, mop out the mud room.
Seasonal tasks will pop up, too: put all light-diffusing bowls in the dishwasher, vacuum the drapes, flip the mattresses (required because, in the course of moving, I found that 15-year-old rocket scientist had worn a hollow into his one-year-old mattress already).
Last, you'll try to estimate the time needed to complete each task. Use your timer, because an accurate grasp of time is essential to the reformation of a S.H.E.™. It takes 7 minutes to thoroughly vacuum the family room (the chief beneficiary of said Georgia sand, pine needles and mud)--so note that on your activity list next to the task.
Now you're ready to make out your cards, the next step as we travel 21 Essays to S.H.E.™. A clean slate, a new broom, and Activity Lists! Get off to a good start . . . and get organized!
Top