Basic Week Plans, or
Getting O by Saying NO!
by CEO (Cynthia Ewer, Organized)
Editor, Organized Home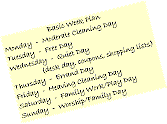 Your activity lists are scribbled and scrawled, and stacks of colored cards have piled up in front of you. Now what? The Basic Week Plan, or BWP!
The BWP is the tool that lets you take control of your time and your life. With it, you plan the flow of household tasks, shopping, errands and activities--and you get the "anytime" monkey off your back.
Pam & Peggy have several recommendations. They advise setting up a BWP to include: a free day, where you may do whatever you want; a heavy cleaning day (four to six hours of housework); a moderate cleaning day (two to four hours of housework); a quiet day for bills, correspondence and paperwork; a shopping day; a family day; and Sunday, which is free of cleaning.
To figure out your BWP, sit down with a piece of paper, and write the days of the week across the top. Under each entry, write down that day's activities: church on Sunday; work or volunteer jobs under each working day; social events (Wednesday Circle meetings, Cub Scouts or sports practices); the day the food ads appear in the newspaper (you'll make your menu/shopping lists that day); and your cooking/baking day (if you have one!).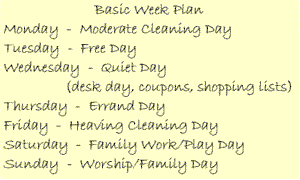 Looking at your week makes setting up the BWP much easier. Some choices will be obvious: if all your social activities fall on Wednesday, that will be your "free" day. If the food ads come out on Thursday, that will be your "quiet" day, where you make lists, write letters, pay bills and clip coupons. If you like a clean house for the weekend, Friday makes a good heavy cleaning day--or, if you work outside the home, you'll round up the family to clean on Saturday morning.
With your list as a reference, write your BWP on a card and tape it to the inside lid of your cardfile. Then file your cards according to the BWP: big cleaning jobs for heavy cleaning day; shopping lists and menu planning for quiet day; trips to the library, the dry cleaners' and the mall for shopping day.
Now comes the hard part. Tape a copy of your BWP on the wall next to the phone. See it. Learn it. Live it.
When the room mother calls on Monday to ask you to bring treats for Wednesday's party--but your baking day is Saturday--you say, "Gee, I'm sorry, but I bake on Saturdays!" If DH wants his favorite tie to go to the cleaners', tell him, "I'll do it on Tuesday, when I do ALL the errands"--and if he wants to wear it sooner, he knows where the dry cleaners' is.
It sounds harsh, but a S.H.E.™'s generous heart is a big part of the problem. By trying to do all things for all men (or women or children), all the time, S.H.E.™'s scatter their energy and waste their time.
By making and keeping a BWP, S.H.E.™s get the jobs done--but in an efficient, time-saving manner. No, you aren't on constant call--but yes, you do get things done on a regular, consistent basis! There may be family (and institutional) grumbles, at first, but they die off when those around you learn that when you say you'll do the dry cleaning on Wednesday, you will!
Finally, the BWP is flexible. Is that kitchen tour being held on Thursday, your cleaning day? Simple! Switch the cards for Thursday with those from your regular free day. Then go look at somebody else's chopping block with a clear conscience!
The Basic Week Plan. Make it. Live it . . . and get organized!
Top