Advanced Basic Week Plans, or
Every Day in an New World!
by CEO (Cynthia Ewer, Organized!)
Editor, Organized Home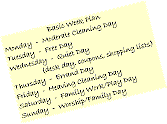 If the card file is the engine driving Pam and Peggy's S.H.E.™ system, the basic week plan is the transmission, chassis and tires--without it, all the horsepower in the world won't get you where you're going.
Only, as many writers in this space have asked, what do you do when there's no such thing as a "basic week" in your life? Today's Essay opens the floor for S.H.E.™ creativity in the face of chaotic schedules.
In Sidetracked Home Executives, Pam and Peggy recommend establishing a Basic Week Plan, assigning a focus to each day: heavy cleaning, moderate cleaning, shopping and errands, "quiet" (bill-paying and paperwork), family, and, above all, your free day.
If this plan seems unattainable, well, Sidetracked Home Executives was first published in 1977--and Pam and Peggy were not yet the high-powered media cuties they've become today! It's time to bring the concept into the '90s: out-of-synch work schedules, working moms, kiddy sports, year-round school--even holidays!--can all wreak havoc in the card file.
The CEO is no stranger to this syndrome, juggling contract writing, Dr. DH's melange of call, rounds and moonlighting schedules, kiddy activities (Aauugghh! radio nerds!) and volunteer work. I took the question to the source, and at a S.H.E.™ seminar, asked Peggy herself what one does in such circumstances.
Peggy explained that Danny, her policeman husband, preferred that life go on around his erratic schedule. She advised sticking with the basic week plan wherever possible.
Well, Danny Jones sounds like a one-of-a-kind jewel. My Dr. DH would not be at all delighted to have his post-call naps interrupted by the sounds of the vacuum! Here are some strategies I've worked out to adjust the basic week plan to modern realities.
The critical tool is the monthly calendar. My calendar has generous spaces to write in each day. At the beginning of the month, I sit down with the calendar, the card file, and three different-colored highlighters. Dr. DH's call schedule is indicated by a green highlighted band at the bottom of each call day. Kiddy activities get a yellow highlighted band, and my commitments get a pink band. Using color, I can see at a glance which days are full of toting, carting and delivering--and which days are available for cleaning, sewing or writing.
But if my calendar shows me that Dr. DH will be on call Wednesday (and home at noon Thursday, exhausted), I'll switch quiet and cleaning days that week. My cleaning will be done on Wednesday without a grumpy doctor in my way, while my billpaying and such on Thursday won't disturb him! If a sudden rush writing assignment comes in on Thursday, I'll grab all those cards and move them to the following Monday, bumping that week's writing time.
More from CEO on the flexible BWP:
Making and keeping a BWP is the biggest obstacle to success under the S.H.E.™ system. It's also the biggest benefit of the S.H.E.™ system.
I swore up and down for years that I could not live on a BWP. I was a single mother, running my own legal research business from my home (lots of neurotic lawyers and deadlines), active in church and Scouting and community and civic groups. My sons attended a public magnet school for gifted kids that was (1) 45 minutes from home and (2) on a year-round school schedule. Even when I remarried, I married a young doctor who had every fourth night call and strange intern-year schedules. All these reasons militated against the idea of a Basic Week Plan.
What I learned to do was adopt a flexible plan, and just make sure that I flopped my cards around so that every week (every two weeks during the weirdest times) had its dedicated days: a heavy cleaning day, a light-moderate cleaning day, a desk day, a shopping/errands day, a work/work day, a family day, and a free day.
Really, none of these (except the work/work day) are full days. What they are is a path to getting each week's chores done each week. Groceries/errands? About two hours on one morning, and add another hour or so if I want to do some cooking-ahead. Heavy cleaning day can be rough, but if you do it regularly, the house eventually gets caught-up, and you'll find yourself working much less hard. Desk day is really desk two hours, even including homeschool record-keeping --if, and only if, you're doing it regularly each week.
The BWP is the hardest nut to crack for S.H.E.™s, but once you crack it, it'll stick around when you need it. Even when we were faced with our highest-stress life-events, like caring for a terminally-ill parent at home, that little BWP kept racing round the track for me. When grocery day came around, I asked friends to shop, but the shopping got DONE.
Hang in there with the BWP. Keep at it and at it and at it. When it becomes second nature, you will reap the benefits. I know how hard it will be (I can't count the number of yellow BWP cards I've made and torn up over the years!), but I'm here to tell you, it will be worth the effort!
Top